Bee hive destroyed at Highlands apiary after disease found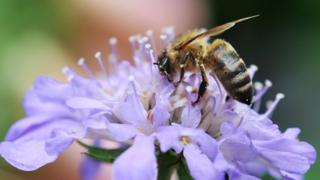 A hive of honey bees has been destroyed at an apiary in the Highlands after the insects were found to be infected with the disease, American Foulbrood (AFB).
AFB was confirmed at the apiary at Scaniport, near Inverness, on Friday.
There is no permitted treatment in the UK for the disease, which kills bee larvae.
The Scottish government said there was a ban in place on the movement of bees and related equipment from the affected area.