Cool and the gang: Reindeer gather on snow patch on hot day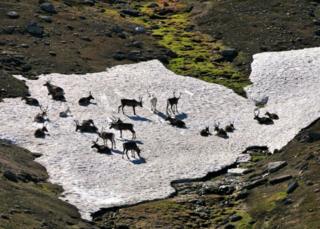 A herd of reindeer have been pictured trying to keep cool on a shrunken snow patch on a mountainside on a hot day in the Cairngorms.
Gary Hodgson, of Tarmachan Mountaineering, took the images this week when temperatures were reaching 19C and higher.
The animals are members of a herd managed the Cairngorm Reindeer Centre near Aviemore.
Parts of the Cairngorms retain patches of snow year-round.
Mr Hodgson took his photographs on Wednesday during a fortnight of fine, sunny weather across large areas of the Highlands.