Scots actress Karen Gillan cast in new Jumanji film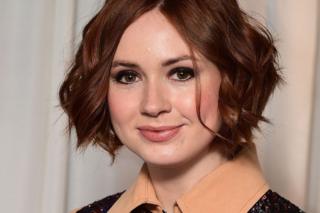 Scottish actress Karen Gillan has been cast in a new film that has been described as a follow up story to the 1990s box office hit, Jumanji.
The former Doctor Who actress, from Inverness, joins US stars Kevin Hart, Jack Black and Dwayne Johnson, aka The Rock, in the new production.
Her casting follows her securing a bigger role in Guardians of the Galaxy.
Starring the late Robin Williams, Jumanji involves a magical board game and is regarded by fans as a classic.
'Scottish fight'
In posts on Instagram, Hart and Johnson welcomed Gillan, who studied drama at Eden Court in Inverness, to "the Jumanji family".
Johnson wrote: "I'm proud to announce a girl who's playing the most important role in our movie - the talented, beautiful and down for a Scottish fight at any time, Karen Gillan.
"And yes, this is the girl who is so bad ass she shaved her freaking head for Guardians Of The Galaxy.
"We start production next month in Hawaii and as many of you already know, this isn't a remake or reboot, but a continuation of the awesome Jumanji story we love."
Gillan shaved her head to play blue-skinned space pirate Nebula in 2014's Guardians of the Galaxy.
She has returned to the role for next year's Guardians of the Galaxy, Volume Two. Its director James Gunn said Gillan will have more screen time in the sequel.