Ullapool road's Del ♥ Kelly graffiti repainted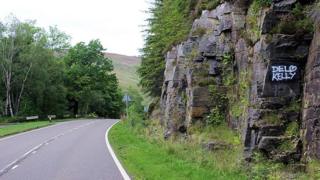 Graffiti first painted on roadside rocks in the 1970s but recently painted over by Bear Scotland has been restored.
The love note "Del ♥ Kelly" had been visible from the A835 near Ullapool before the trunk roads maintenance company acted on a complaint about it.
A petition was started calling on Bear Scotland to leave the graffiti alone and, instead, focus on other matters.
The words were repainted shortly after Bear agreed to ignore the graffiti.
It is not known who restored the love note.
The identities of Del and Kelly also remains a mystery.