'Hidden shortage' of radiologists across Scotland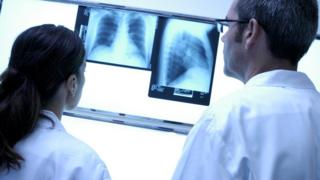 A national shortage of radiologists is partly to blame for recruitment difficulties at a Highland hospital, a health board has claimed.
Medics have written a letter to NHS Highland raising concerns about vacancies at Raigmore Hospital in Inverness.
The health board said there were too few radiologists both in Scotland and UK-wide.
But officials at Raigmore insisted the service was "safe and effective".
Responding to the staff concerns, Dr Ken Macdonald, associate medical director at Raigmore, said steps were being taken to address the shortage, and appointments were not being cancelled.
He told BBC Scotland that there were two main factors behind the situation at the hospital.
Dr Macdonald said: "One, you are seeing an increasing demand for radiology services within the Highlands - approximately 10% every year for complicated scans like MRI and CT.
"And that is against a backdrop of a reduction in the number of consultant radiologists at Raigmore Hospital.
"In the past 18 months we have developed three vacancies for consultant radiologists, and two of those have occurred in the last six months. That puts a bit of additional pressure on the service."
He added: "This has to be seen against a backdrop of both a UK and Scottish shortage of radiologists.
"So we are not the only health board area in Scotland experiencing these difficulties.
"The underlying problem is the number of radiologist who are being trained hasn't kept up with demand for radiology services."
To overcome the difficulties at Raigmore, the health board has been looking at recruiting radiologists in training to ease the burden on consultants.
'Hidden department'
Labour MSP Rhoda Grant said patients had spoken of having to wait longer for X-rays and scans.
She said: "I think it is a department that is somehow hidden because people see GP shortages because that is happening in their community, and they see shortages in other disciplines.
"Radiology tends to be part of every discipline.
"I don't think the public was aware this (the shortages) was going on, therefore, not enough concern was raised soon enough."
Dr Grant Baxter, of the Scottish committee of the Royal College of Radiologists, said recruitment was a problem for Scotland's health boards.
He said: "The difficulties experienced by the huge shortage of radiologists in the Highlands is not just there but all over the whole of Scotland."
Scotland's chief medical officer, Catherine Calderwood, who visited Raigmore Hospital this week, said new ways of working should be explored to maintain a high quality service.
She said: "We have to change some of the ways we are working if we are not going to able to have as many doctors as we did have because of recruitment issues.
"But there are very good solutions - technological solutions but that also involve the use of other staff, perhaps radiographers who can also report on X-rays."