First phase of repairs to Suilven path completed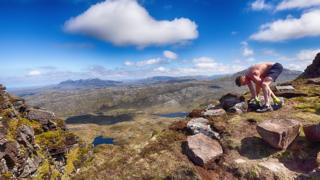 The first phase of a project to repair a path leading to the mountain of Suilven in Assynt has been completed.
Over four months, 10 employees from two contractors have been involved in laying down 100 tonnes of rock that was airlifted by helicopters.
The £200,000 project is being undertaken as part of the Coigach and Assynt Living Landscape Partnership, which involves the Assynt Foundation and the John Muir Trust.
Repairing the path should better protect vegetation and peat along its route.
The first phase of work saw on the contractors, Alec McMullen, walking more than a total of 450 miles over the four months to get to and from the remote work site.
A further phase of repairs are to be carried out on the path next year.
Image is copyrighted.