Wrong type of barrier causing delay to A9 road opening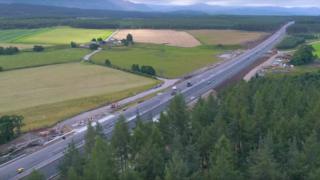 A section of safety barrier on a new stretch of dual carriageway on the A9 is of the wrong specification, Economy Secretary Keith Brown has said.
He told the BBC's Good Morning Scotland programme the problem was found at the "last minute" and had caused a "short delay" to fully opening the road.
Transport Scotland had previously said a "technical issue" was the cause of the delay.
The new dual carriageway is between Kincraig and Dalraddy.
The four-mile (7.5km) stretch of new road south of Aviemore in the Cairngorms was to be fully opened to traffic in the summer. Speed restrictions remain in place on the road.
Mr Brown said the design of the barrier was checked by an independent designer, but "at the last minute" it had been found not to "meet specification".
He said: "I am not willing to compromise safety on the A9 so we have insisted the proper specification for the safety barrier be put in."
Transport Scotland said the issue was with one "small section" of barrier that crossed undulating terrain.
The project has taken two years and cost £35m to reach its final stage.
It is one of 12 sections of the A9 between Inverness and Perth to be upgraded from single to dual carriageway at a cost of £3bn.
The overall scheme is to be completed in 2025.