Cafe owner tells of racist abuse from gang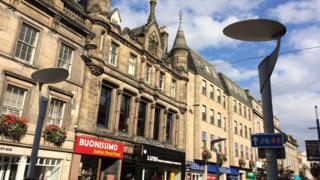 An Italian businessman says a gang of youths caused damage to his cafe in Inverness and racially abused him and his staff.
Andrea Miola runs Buonissimo in the city's High Street.
On Saturday, tables and chairs outside his cafe were thrown and he and a member of his staff were verbally abused.
The group returned on Sunday and were involved in similar offensive behaviour.
Police Scotland said it was making inquiries into the weekend's incidents.
A police spokesman said four teenagers from the Inverness area had been traced and their details had been noted as part of the inquiries.
Mr Miola told BBC Radio Scotland the incidents had been upsetting for him and his staff.
He said: "They stole a chair and damaged other tables and chairs. They came back on Sunday and started to insult us."
'Extra resources'
The businessman said the weekend's behaviour was not isolated and he had experienced harassment previously.
He urged police to take action to improve the safety of the High Street.
Residents of Inverness have condemned the anti-social behaviour in comments to a post about the incident Mr Miola wrote on social media.
Ch Insp Colin Gough, Police Scotland's area commander for Inverness, said: "We are continuing our inquiries into this incident and will take action against those involved where evidence exists.
"I am aware of criticism and concerns about our initial response to this incident and I have asked for a full review to be carried out in order to understand why this was indeed the case and to see what lessons can be learned from this incident
"I intend to meet with the owners of the restaurant involved myself to discuss the incident and our response."
The officer added: "We are acutely aware of concerns about anti-social behaviour in Inverness city centre and we are committed to working with our partners to make sure that these issues are tackled
"Extra resources have been committed to the city centre whilst we work through a remodelling of policing in the area which will see a permanent increase in officers, providing the necessary visibility, reassurance and response."