Third group of Syrian refugees to be housed in Highlands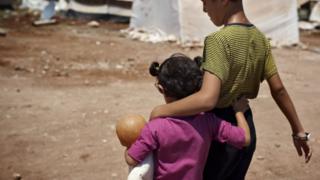 Preparations have begun for housing in the Highlands a third group of refugees that have fled the conflict in Syria.
Working with Scottish councils body Cosla, Highland Council has already resettled nine families in its area.
Four families were provided with homes in Lochaber earlier this year and five were given accommodation in Alness in Easter Ross in 2016.
Highland Council hopes to eventually offer homes to 25 to 30 families over a period of time up to the year 2020.
The local authority plans to house the new group of families in Ross-shire.
A public information event is to be held at Ross County FC's stadium in Dingwall on 1 November.
'New lives'
Like other Scottish authorities, Highland Council has been working with Cosla on resettling families of refugees.
Highland Council's leader, Margaret Davidson, said: "We are continuing our commitment to help resettle more refugees from Syria and are working closely with our key partners to ensure that we are in the best position possible to ensure a smooth transition for families when they arrive."
She added: "We expect to receive the third group of refugees within the next few months and we are doing everything that we can to be ready to support them adjusting to their new lives in the Highlands."