Living room among Cromarty Film Festival venues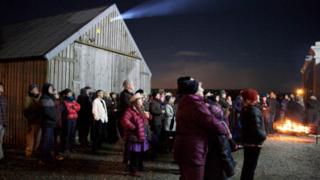 The living room of a house is to be among the venues for next month's 11th Cromarty Film Festival.
The event has a reputation for holding screenings in unusual places, including in the past, a pizza restaurant.
In 2008, it held what was believed to be the world's smallest drive-in cinema on a tiny car ferry.
Other venues for this year's festival, running from 1-3 December, include a lighthouse and a marine biology laboratory.
Guests will include actor and director Jason Connery, film producers Margaret Matheson and Rex Pyke and casting director Orla O'Connor.
Olympic 2012 artist Neville Gabie and Bafta-winning animators Will Anderson, Ainslie Henderson and Ross Hogg will also attend.
Films to be shown include Trouble in The Glen, which stars Orson Welles as a Highland laird, and Hatters Castle, a film noir about a 19th Century Scottish hat-maker starring James Mason and Deborah Kerr.
Also in the programme is Iranian vampire chiller, A Girl Walks Home Alone at Night.
There will also be family-friendly screenings of the award-winning My Life as A Courgette and the newly-released film, Paddington 2.
Don Coutts, chairman of the film festival's committee, said next month's programme offered "another wonderful winter weekend of film gluttony".
He said: "In halls, stables, coffee shops and a mobile cinema, you cannot get away from them.
"There will be sparkling chat, delicious food and wine, and the town of Cromarty will have her party dress on just for you."