Alistair Wilson's wife: Answers would lift 'dark shadow'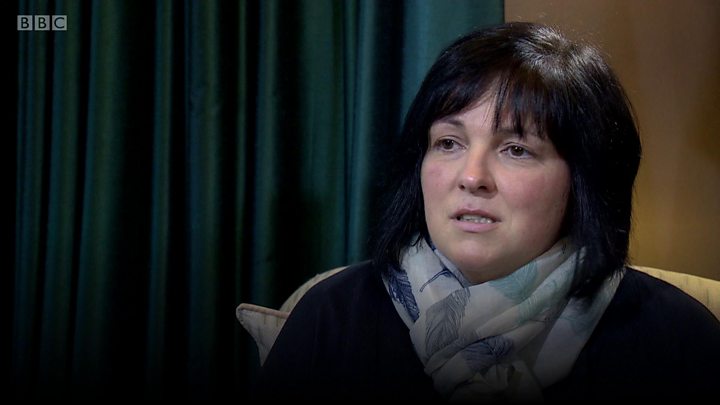 The wife of murdered banker Alistair Wilson has said getting answers about who shot him would allow her family to move on from "this dark shadow".
Veronica Wilson, whose husband was killed in November 2004, has spoken to the BBC in her first broadcast interview for 12 years.
And police reinvestigating the case have revealed new evidence to the BBC.
They said a blue envelope given by the killer to the father-of-two just minutes before he was shot, was empty.
Police also revealed that a gun identical to the murder weapon had been found in Nairn last year.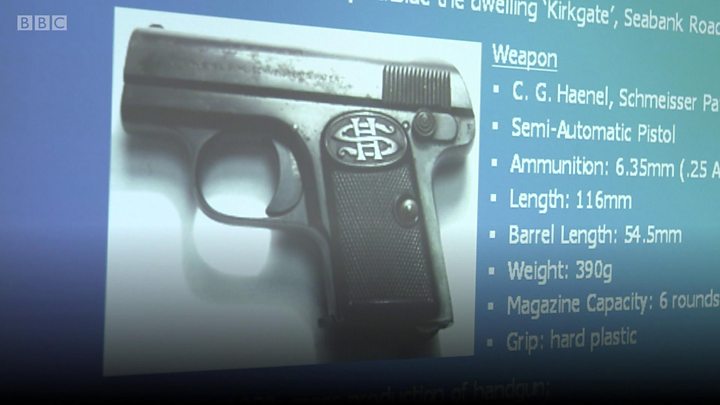 When he was murdered, Alistair Wilson was working as a business banking manager with the Bank of Scotland in Inverness.
He was shot on the doorstep of his family home just after 19:00 on 28 November 2004. He died later in hospital.
Speaking ahead of the 13th anniversary of the murder, Veronica Wilson said: "For us as a family, we need to know why. This is just so senseless.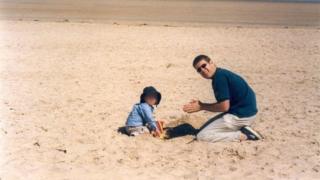 "For two young boys - aged two and four - to be left without a dad. That can't be repaired.
"But a who and why would just make such a difference to us being able to move on."
Ms Wilson said: "It's harder the older the boys get. Obviously when they were little they were just told their dad had died, and he wasn't there any more.
"They're young men now so they just can't understand it.
"Why somebody would do it to their dad and why somebody's not been caught. Justice is a huge factor and issue that they have."
Ms Wilson added: "Everyone has supported us and the boys have had very few problems with being who they are.
"But it's still very horrible for them to realise now, who they are. It's not nice being the banker's widow or the banker's children."
Detectives reinvestigating the murder have released new details to the BBC.
They show for the first time exactly what the envelope looked like which was handed to Alistair Wilson by the killer, who was described as a clean-shaven, stocky man, wearing a baseball cap and dark jacket.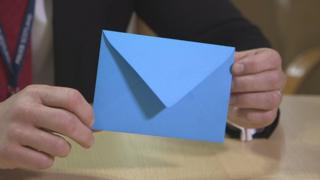 The blue envelope was a quarter of A4 in size, similar to one in which a greetings card would come.
Police said it was empty when the 30-year-old showed it to his wife before he was killed. They also confirmed that the name 'Paul' was written on the front of the envelope.
Det Supt Gary Cunningham, who is leading the renewed investigation, said he was appealing for help from the public.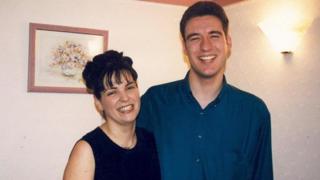 The detective added: "I need to know if they have any ideas who 'Paul' is. And I need to know if there's any ideas as to why this envelope contained nothing."
Detectives also revealed new information about weapons that have recently been found in Nairn. The BBC understands they both have a link to wartime Poland.
House clearance
The Haenel Schmeisser handgun used to kill Alistair Wilson was found down a drain a few streets from the family home on 8 December 2004, 10 days after the murder.
The weapon was a German-made pistol manufactured in the 1920s.
However, police said another Haenel Schmeisser, an exact replica of the murder weapon, was handed in to the force last year following a house clearance.
There have only been 13 of these guns recovered in the UK since 2008.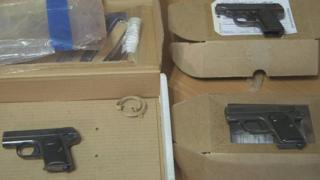 "Obviously two of them were in Nairn, which would appear quite significant," said Det Con Ged Quinn, who has been examining the background of the weapons.
The detective said the gun was handed in by the family of an old man who had gone into care.
The man had been a prisoner-of-war in what is now Poland and the gun was believed to be a "war trophy" from WW2.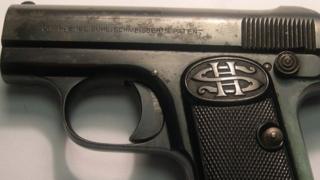 Another gun, the same calibre as the Haenel, and almost identical in shape and size, was also found in Nairn.
The Belgian-made Melior pistol was handed in to police last year.
Det Con Quinn said this was surrendered by an old man during the air rifle amnesty.
The man's family believe the pistol was handed down from Allied servicemen in the Moray Firth towards the end of WW2.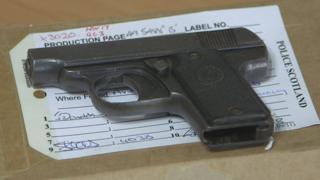 Det Con Quinn said: "We're hoping that we can build up a picture of the history of these weapons, how these weapons came into the country.
"That may tell us something about the history of the murder weapon, which we know nothing about at present."
Veronica said she still has faith that her husband's killer will be caught.
"You couldn't go on if you didn't believe that," she said.
"It's hard to grasp what you're actually looking for as an answer, because I don't know why people kill other people. With a gun, on the family doorstep, when the children are upstairs.
"I don't know what sort of person I'm trying to find."
The Alistair Wilson inquiry line phone number is 0131 311 5916.
You can hear more on this story on BBC Radio Scotland on Sunday 3 December at 09.30, and afterwards on a podcast called The Doorstep Murder.