'Puffarazzi' clue to decline in puffins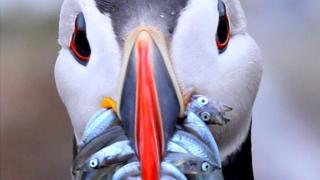 Photographs of puffins taken by wildlife enthusiasts have provided a clue to why numbers of the birds in Britain and Ireland have been falling.
RSPB Scotland said images showing what the birds were feeding chicks suggested that puffins in the Northern Isles were catching less nutritious prey.
The colonies in Orkney and Shetland have suffered some of the most serious declines in numbers.
The photos were taken by 602 people, dubbed "Puffarazi" by the charity.
An appeal yielded 1,402 images of puffins, 517 of which were of birds at sites in Scotland.
Traditionally, puffins feed on a mixture of fish, with nutritious sandeels making up a high proportion of their diet.
Early results suggest that the diet of puffins varies significantly around the UK and Ireland, said RSPB Scotland.
In Orkney and Shetland, puffins appeared to be consistently finding smaller prey compared to most other colonies.
Photographs from puffin colonies in north-west Scotland show that sandeels make up about half of their diet, compared to the two-thirds at colonies in southern Scotland, northern England and Wales.
Ellie Owen, a conservation scientist leading RSPB's Project Puffin team, said: "Puffins' colourful bills and unique eye markings make them a favourite bird to photograph.
"The huge response to our appeal for photos has been incredible, with more than a thousand submitted.
"It's taken the team of staff and volunteers more than three months to go through them all."
She added: "For a young puffin waiting in its burrow, its life hangs on whether its parents return with enough food.
"An abundant supply of large, nutritious fish such as sandeels, sprats and herrings is key to healthy colonies.
"The public response means we're getting data on a scale that we've never been able to collect before; showing what puffins are managing to find to feed their chicks around our coastline."
The next stage of the project will examine the diet of puffins compared to their breeding success to "pin down" what part diet plays in the decline of some puffins.