Amputee schoolgirl is among contestants on new series of Raven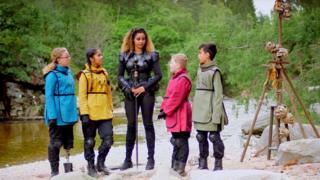 A 12-year-old amputee will be among the contestants on the new series of cult children's adventure programme Raven.
Hannah Morrison was just six when she had her left leg amputated, after being born with a rare bone condition.
But she has not let her disability hold her back - the schoolgirl from Glasgow has won a clutch of swimming medals and captained a school hockey team.
And in the new series of Raven she took part in challenges testing strength, agility, courage and resourcefulness.
She told The Kaye Adams Programme on BBC Radio Scotland that the show was filmed near Aviemore over a week in the summer.
The object of the programme is to complete challenges - such as crossing a log set above river rapids - in order find golden rings.
"It's really exciting doing it, it was really good," Hannah added.
However her mother, Jennifer Morrison, who accompanied her in Aviemore, admitted it was sometimes difficult to watch.
"My heart was in my mouth sometimes but she loved it," she said.
Hannah was born with osteofibrous dysplasia, a condition which left her leg weak and prone to breaking.
From an early age, she wore a cast or frame on her leg and she underwent 17 operations.
Ms Morrison said her daughter never complained about the pain in her leg, but when she was six they introduced her to a girl with a prosthetic leg.
She said: "Hannah was looking at this little girl and she was running up and down the hallway and she said 'I want that - that's what I want to do'."
She said the family was nervous about taking the decision to operate but after years of weekly hospital visits, "enough was enough".
"She's been amazing since then, she's not looked back," Ms Morrison said.
Hannah added: "I think it was just that I couldn't run about with my friends in the playground.
"I saw this girl being able to run with this leg that was really cool and I though that's going to be better."
It took a while for her to get used to her prosthetic limb but it was "100 times better" than the alternative, she said.
"I could do anything that I wanted, there's nothing I can't do," she said.
Raven is on CBBC on weekdays from 15:50, from Monday.