Work on A9 leads to 'Iron Age finds' in Cairngorms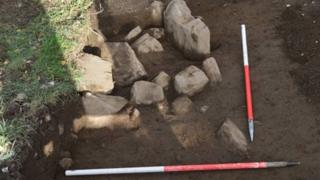 Work on the A9 has led to the discovery of a possible structure, pottery and a stone tool from the Iron Age.
The finds were made during work to build a new stretch of dual carriageway on the road between Crubenmore and Kincraig.
Orkney Research Centre for Archaeology (ORCA) believe the finds could be associated with a nearby souterrain.
Souterrains are underground structures that may have been used as stores, defences or in rituals.
The souterrain close to where the possible Iron Age finds were made is known as Raitt's Cave.
The structure, near Kingussie in the Cairngorms, is larger than other souterrains found so far in the north of Scotland. The new structure could be associated with Raitt's Cave.
Martin Carruthers, Iron Age specialist at the University of the Highlands and Islands Archaeology Institute, has identified the pottery as a possible collection of early Iron Age sherds, or fragments.
The tool found is believed to be a stone Ard point, a rock worked into a point for use as part of a plough.
Archaeologists were alerted to the finds by anomalies identified in a geophysical survey.