Red deer culls using helicopters criticised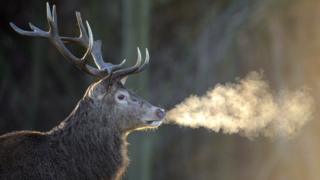 A plan to fly deer stalkers into remote areas by helicopter to carry out culls has been criticised by the Scottish Gamekeepers Association (SGA).
Scottish Natural Heritage (SNH) has been asked by "a number of estates" to help them use helicopters.
SGA said helicopters spooked the animals, putting their welfare at risk, and described the culls as a poor method of deer control.
SNH said culls were done to the "highest standards" of safety.
SGA opposed the use of helicopters in controversial culls in 2004 and 2005.
Peter Fraser, the association's vice chairman, said: "No one is denying the need for deer management. The question is the methods to be used in Scotland today."
He and other members of the SGA said the previous culls had seen some deer being injured and not killed outright.
They also questioned the involvement of SNH, a public body, in helping to finance the use of helicopters.
SNH said managing wild deer in Scotland's hills was "extremely challenging".
A spokesman said: "A number of estates have asked us to help them use helicopters to take stalkers to remote areas.
"This help allows estates to achieve their deer management objectives and get deer numbers in balance with their environment.
"We make sure that those taking part are trained to the highest standards of safety and deer welfare."