Cairngorms and Loch Lomond among busiest mountain rescue areas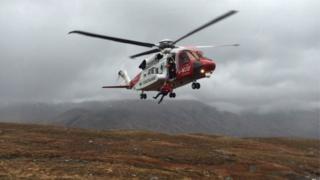 Most mountain rescues involving coastguard helicopters between July and September happened in Scotland and Wales, according to new statistics.
There were 148 "taskings" in mountainous areas over that period.
Of those call-outs, 84% involved a response from Caernarfon, Inverness and Prestwick-based crews.
Most of the mountain rescues were carried out in Snowdonia, the Cairngorms and Loch Lomond and Trossachs National Park.
The figures have been released by the Department for Transport.
The Maritime and Coastguard Agency has search and rescue helicopter bases at Inverness, Sumburgh in Shetland, Stornoway on Lewis and Ayrshire's Prestwick airport.