Orphaned otter Uisge loves fish soup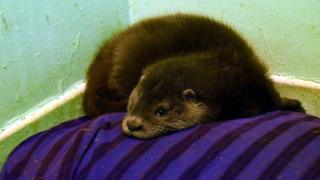 A young male otter is being raised on fish soup and pieces of fish at a rescue centre.
The orphaned cub, nicknamed Uisge, was found by wildlife photographer Hamza Yassin near where he lives at Kilchoan on the Ardnamurchan peninsula.
The otter is now in the care of the International Otter Survival Fund (IOSF) on Skye.
A second, smaller and younger cub is also being looked after by IOSF after being found at Aultbea in Wester Ross.
She is being fed milk and named Beatha by the rescue centre.