Closure of Isle of Barra's last bank to go ahead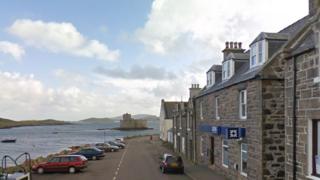 RBS has ruled out revisiting its plan to close its branch on Barra - the island's last bank.
Western Isles MP Angus MacNeil had called on the bank to reconsider shutting the branch in Castlebay.
RBS did change its mind on removing the ATM at the bank, but has reaffirmed its decision to close the rest of the site in a response to Mr MacNeil.
Islanders' nearest bank is 24.7 miles (39.7km) away in Lochboisdale on South Uist.
The journey involves taking an hour-long ferry trip and then driving for about 30 minutes.
A total of 62 RBS branches are under threat across Scotland, with the loss of 158 jobs.
Mr McNeil said: "RBS say that they have considered the matter carefully but that they will not be revisiting their decision yet they have not consulted with their customers nor carried out an economic impact assessment of their decision to close the Castlebay branch.
"The RBS should drop Scotland from their name, such is the contempt they are showing our country."
RBS said: "Les Matheson, a member of the bank's executive committee, and CEO responsible for personal and business banking across the UK, visited Barra on Friday to meet and speak to Castlebay branch staff and customers.
"Mr Matheson is keen to speak to as many people affected by the changes as possible and would be happy to meet with Angus MacNeil MP.
"We are proactively communicating with customers on Barra who may need further support to understand the alternative ways they can bank on the island."