Revamp planned of UK's highest restaurant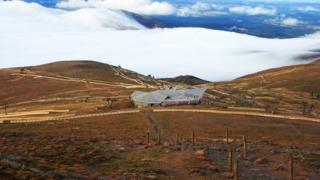 A planned revamp of the UK's highest restaurant has been unveiled.
The Ptarmigan is situated 1,097m (3,599ft) up Cairn Gorm mountain in near Aviemore in the Cairngorms.
It forms part of the CairnGorm Mountain snowsports centre, which is owned by Highlands and Islands Enterprise and operated by Natural Retreats.
The redesign, which includes an extension featuring a rooftop walkway, is the subject of a public consultation.
Adam Gough, of Natural Retreats, said the aim of the revamp was to improve the visitor experience and also solve operational issues such as the laborious task of clearing snow away from fire exits in winter.
He said: "Its sense of arrival is slightly underwhelming, there is a lot of congestion, and there are operational challenges.
"If we can solve that we can then open earlier and get more skiing time."
But Nick Kempe, of Parkswatch Scotland, said the site should not be extended and instead buildings in national parks (the Cairngorms is the UK's largest) should be developed further down mountains where they have less of a visual impact.
He added: "It appears that much of the extension will involve glass which means if it is lit up at night it could seen across much of Speyside.
"Also there is an issue of bird strikes, including ptarmigan and other rare birds."