Sheffield-based Shauna Coxsey wins Scottish mountain award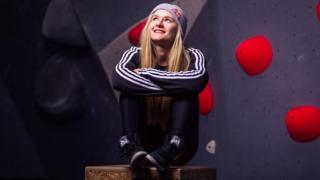 Sheffield-based competition climber Shauna Coxsey has won this year's Scottish Youth Ambassador Award for Excellence in Mountain Culture 2018.
The accolade is awarded by the Fort William Mountain Festival, which is taking place this week.
The award recognises and celebrates the achievements of a young person and their outstanding contributions to Scotland's mountains.
Coxsey is the fourth recipient of the award.
She is one of the UK's most successful competition climbers.
Specialising in the climbing discipline of bouldering, Coxsey is the current two-time reigning IFSC Bouldering World Champion and came third in the combined event in 2017.
She is also the first British woman to climb the outdoor bouldering grade of V14 (8b+).
The climber is a director of the Women's Climbing Symposium and is also a trustee of the charity Climbers Against Cancer, set up by the late John Ellison to raise funding and awareness about cancer amongst a global climbing community.
Coxsey said: "It is a real surprise and huge honour to receive this award. I am incredibly grateful to those who have nominated me.
"Although most people will know me from my day job as a competition climber, much of my free time is spent climbing outside whether that is on my doorstep in the Peak District or further afield.
"I love the fact that climbing is so varied and attracts people from all walks of life to try the sport either down a wall or at a local crag."