£25m project to tackle mobile 'notspots' in Scotland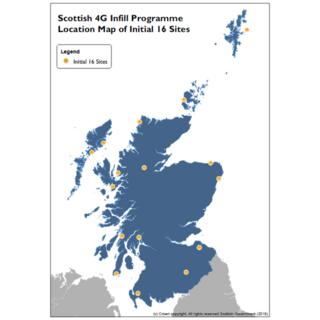 A £25m project to improve mobile phone coverage in parts of Scotland has been announced by the Scottish government.
The Scottish 4G Infill Programme will fund new mobile telephone masts in locations with no existing 4G mobile coverage.
An initial 16 "notspot" sites have been identified, including in the Northern and Western isles, Highlands, Argyll, north east and southern Scotland.
The government said up to 70 locations could eventually be tackled.
'Challenging areas'
Connectivity Secretary Fergus Ewing announced the launch of the procurement process at a meeting of the Convention of the Highlands and Islands.
The Scottish Futures Trust has developed the programme on behalf of the Scottish government.
Mr Ewing said: "Widespread high-speed and reliable mobile coverage is just as vital as broadband, and ensures that people, communities, and businesses are able to stay connected.
"Improving mobile coverage across Scotland is key to achieving our ambition to become fully digitally connected.
"The infill programme will target the areas where it can make the most difference, achieving better and cost-effective connectivity in some of our most remote and challenging areas."