Offer accepted for historic Clachan Lochbroom church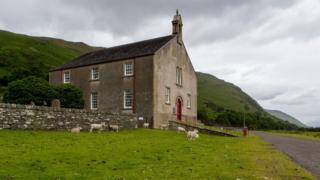 An offer to buy a historic Highlands kirk has been accepted by the Church of Scotland General Trustees.
The closed down church at Clachan Lochbroom, which is on a site that has been a place of worship for 800 years, has fallen into disrepair.
Clachan Lochbroom Heritage Trust has raised enough money to meet the £30,000 valuation figure for the property.
But the organisation needs to raise more funds to turn the kirk in Wester Ross into a community facility.
Peter Newling, convenor of the trust, said: "This site has been used for 800 years, I believe, and we aim for another 800 years of even wider use.
"We had a taste of what it can do for our community on Christmas Eve in 2015 - it was packed with 200 people from all over our huge district and was buzzing.
"The younger folk were all engaged, everyone with an instrument joined in the music, and the chatter over tea afterwards showed what a boost we had all received from just gathering together under one roof."
The church was built in 1817 on a site of religious importance going back to the 13th Century.