Plan to give new life to abandoned buildings and plots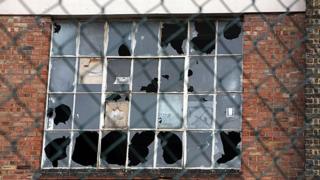 Councils could be given new powers to take over long-abandoned buildings and plots which would then be sold to bring them back into "productive use".
The Scottish Land Commission has begun work on developing proposals for the new compulsory sale order (CSOs) power.
It estimates there are 30,641 acres (12,400ha) of vacant land.
Under the plans, local authorities would be able to sell the vacant properties and small plots of land by public auction.
The new powers could be used to bring buildings and plots back into use.
Hamish Trench, the commission's chief executive, said: "The commission was established to help create a Scotland where everybody benefits from the ownership, management, and use of Scotland's land and buildings.
"If we want Scotland's land to become more productive, efficient and equitable we must consider tools and mechanisms such as CSOs to address the problem of vacant and derelict land.
"It is envisaged that CSOs would be used to tackle abandoned buildings and small plots of vacant and derelict land in town centres and communities."
Mr Trench said the commission was working with the Scottish government on the proposals, which would be the subject of a public consultation.