Woman seeking isolation in Shiant Isles is rescued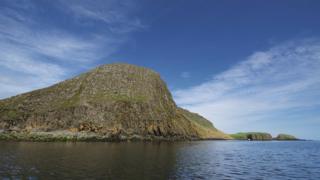 A woman understood to have been planning to stay on a small group of islands without human contact for 40 days has had to be rescued.
She requested help on Monday after being injured in a fall on the uninhabited Shiant Isles.
Stornoway lifeboat was launched and she was taken to Stornoway on Lewis.
It is understood that woman was about two weeks into her adventure on the Shiants, which lie about four miles (6km) off the east coast of Lewis.
She had suffered a knock to her head in the fall.
Stornoway Coastguard Rescue Team helped the woman to Western Isles Hospital in Stornoway.
Seabird haven
A spokeswoman for the Maritime and Coastguard Agency said: "We believe the casualty's intention was to stay on the islands without human contact for 40 days.
"However, following a fall she requested assistance."
The Shiants are a haven for seabirds.
About 10% of UK puffins and 7% of UK razorbills breed on the islands every year.
Last month, the isles were declared free of rats for the first time in more than a century.
The black rats were not native to the Shiants and were thought to be the descendants of rats that came ashore from shipwrecks in the 1900s.
Numbers of some seabird species were in decline, or disappeared, due to rats eating their eggs.