Inverness' AI Welders Building to be restored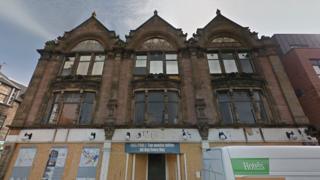 A historic building in Inverness city centre is to be fully restored.
Inverness Townscape Heritage Project is providing a £960,000 grant towards the restoration of the B-listed AI Welders Building at 96 Academy Street.
All floors are to be put back into use. Part of the site is to be used by Cairngorm and Loch Ness Breweries.
This year marks 125 years since 96 Academy Street was built as the head office of the Rose Street Foundry and Engineering Company.
The company changed to AI Welders in the 1960s.
The industrial heritage of the building is portrayed in the four mosaics depicting foundry men at work, which are set within arches on the Academy Street and Rose Street elevations of the building.
The upper floors of the building have not been used for about 30 years.
A pub had occupied the lower level, before it closed.