New police database unit for Inverness and Glasgow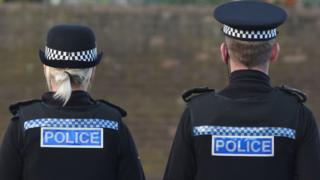 A new unit to support the duties of frontline police officers has started operating in the Highlands and Islands.
Police Scotland's National Database Enquiry Unit (NDEU) can provide "live time" background checks on individuals and vehicles.
The NDEU is to operate across two sites, first in Inverness before later being phased in at a site in Govan in Glasgow.
Assistant Chief Constable John Hawkins gave the project its final approval.
The NDEU is expected to be available to officers across Scotland by the end of the summer.
The site in Inverness was set up following the closure of the city's control room and service centre earlier this year.
'Essential role'
ACC Hawkins said: "The NDEU will support operational policing by undertaking live time database checks for frontline officers across the country 24 hours a day.
"Police officers may require background checks on individuals or vehicles as part of routine inquiries or the management of ongoing incidents.
"This information can provide vital intelligence to assist with these enquiries and can also contribute to officer safety by highlighting potential risks associated with individuals."
Up to 2,200 such inquiries are conducted every day in Scotland.
ACC Hawkins added: "The creation of a new NDEU means that 30 permanent staff posts will be retained in Inverness.
"Every member of staff affected by the recent control room and service centre closure in Inverness was offered a position within the newly-created NDEU, ensuring we retain our skilled and experienced staff to carry out this essential role in supporting local policing across the country."
Highland Council opposed the closure of the Inverness control room and service centre.
Alasdair Christie, the local authority's deputy leader, said the council was pleased by the creation of the new unit.
He added: "The council remains disappointed at the decision to close the control room in Inverness, as our preferred model is, and always has been, a joint 999 control room based in Inverness.
"However, we accept the decision has been made and we very much hope that the new arrangements will be effective and succeed given how important this service is."