'Lack of available land' a barrier to new farmers in Scotland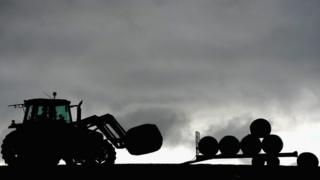 One of the biggest challenges to new entrants to farming in Scotland is access to land, according to a report for the Scottish Land Commission.
The research was done by Aberdeen-based The James Hutton Institute.
It suggests existing farmers and landowners are "well placed to offer greater opportunities to new entrants".
The institute said by working with new entrants, farmers and landowners could enhance their own businesses at the same time.
Scottish Land and Estates said landowners recognised that more flexibility was needed to "rejuvenate" the tenanted sector.
Joint ventures
The James Hutton Institute was commissioned to investigate new models and structures to increase the availability of land for new entrants.
It also looked at how to provide practical guidance on existing joint venture models, identify barriers to new entrants and develop a baseline for measuring success.
The Scottish Land Commission's tenant farming commissioner, Bob McIntosh, said: "One of the biggest issues facing new entrants to tenant farming is the lack of access to land.
"For Scotland to have a successful farming sector, there needs to be new entrants to drive innovation and best practice.
"This report explores a number of ways for increasing the availability of land."
'Clear desire'
The commission, working with NFU Scotland and Scotland's Farm Advisory Service, is to hold a series of workshops in late summer looking at the options available to existing farmers and landowners.
The options include joint ventures and share farming to offer opportunities for new entrants.
Sarah-Jane Laing, executive director of Scottish Land and Estates, said: "There is a clear desire by both landlords and tenants to see more land being let and this report is another valuable contribution towards delivering a thriving tenanted sector in Scotland.
"There is increasing acknowledgement across the industry that more flexible arrangements need to be introduced which can serve the interests of both tenants and landlords.
"That is not to remove the existing tenancy options but to ensure that simpler arrangements are also part of the mix and can deliver a productive and adaptable relationship between respective business parties."