Bronze puffin donation sets sail on ferry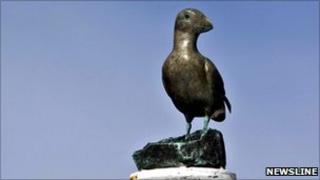 A life-size bronze puffin is to spend the next eight months travelling between the Northern Isles and Aberdeen.
The sculpture has been fitted on the NorthLink boat Hrossay to mirror the life puffins face at sea during winter.
It is hoped artist Eddie Hallam's 30cm high donation will raise the public's awareness of puffins.
The Scottish Wildlife Trust said it was a spectacular work and a generous donation.
Peter Hutchinson, of NorthLink Ferries, added: "Eddie's bronze puffin is a fantastic piece of work and we jumped at the chance to add an interesting feature to the MV Hrossey."
A competition has also been launched to name the puffin.