Convicted Orkney murderer Michael Ross beginning appeal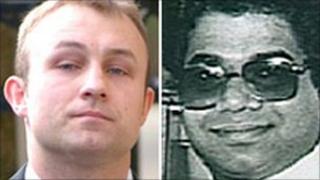 A man convicted of the murder of a waiter on Orkney is due to begin the appeal process.
Former Black Watch sniper Michael Ross was 15 when Shamsuddin Mahmood, 26, was shot in the head in Kirkwall's Mumataz Restaurant in June 1994.
He was sentenced to a minimum of 25 years after being found guilty in 2008.
A preliminary hearing will be held at the High Court in Edinburgh on Friday, with the appeal itself set to take place next month.
Ross, latterly of Inverness, has always maintained his innocence. An appeal was signposted right after his conviction, and has now been confirmed.
He fled from the dock at the High Court in Glasgow after a jury found him guilty, but was soon caught by a court official and police.
A weapons cache was found in a car park after the escape bid, and Ross was later jailed for a further five years.
Mr Mahmood, born in Bangladesh, was shot in full view of a room full of diners, including families with children, by a masked gunman.