Six years for rugby player 'lost eye' Aberdeen attack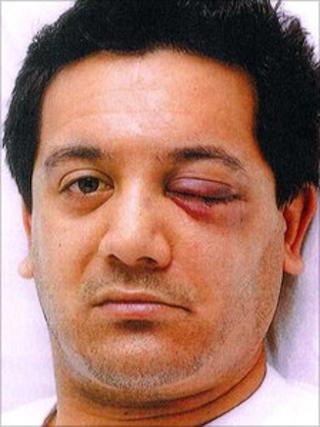 A man convicted of a brutal attack in Aberdeen which led to a promising rugby player losing an eye has been jailed for six years.
Christon Mackie, 21, assaulted New Zealander Aparangi Hemara, 27, in Union Street last year.
Mr Hemara, who has Scottish relations, had won two caps with the New Zealand Maoris and hoped to play for Scotland.
Judge Lord Turnbull, at the High Court in Edinburgh, said the result of the attack had been "devastating".
Mackie, and his brother Aaron, 19, had earlier been found guilty at the High Court in Livingston.
The men were convicted of repeatedly punching and kicking Mr Hemara to his severe injury, permanent disfigurement and permanent impairment in the incident in October 2009.
Mr Hemara had been walking arm-in-arm with his fiancee Elizabeth Giles after celebrating the announcement of their engagement with friends in Aberdeen city centre.
Before the attack, Mr Hemara had not progressed to join New Zealand's national team, The All Blacks, which would have disqualified him from playing for another country.
He had hoped to continue playing high-level rugby and eventually bid for a place in the Scotland team, but the injury - which led to surgeons removing his eye - ruled that out.
Lord Turnbull told Mackie: "He was a keen and highly-talented sportsman. He presented as charming, decent, responsible and the very sort of man who could have so much to offer friends and society.
"On his first evening socialising in our country you and your brother attacked him without provocation and under the influence of alcohol.
"He was repeatedly punched and kicked to the head and body and you completed the act by kicking him as he lay unconscious on the ground."
The judge went on: "As a consequence he can no longer compete in any of the sports in which he excels. So much of who he was has been affected by your attack.
"He now has no confidence and can't work in his former employment. He has no job.
"You must both take responsibility for what you did and its effect."
Indescribable ordeal
Mr Hemara had said after the convictions: "As you can imagine we have had an extremely tough year and are thankful this is all over so we can move on with our lives.
"No words can describe our ordeal but we are thankful for all of the support we have received.
"It must be said that without CCTV footage, the police and the help of the press we wouldn't have been able to bring anyone to justice for this."
Aaron Mackie will be sentenced later this month.