First tenant of iQ office in Aberdeen named as Centrica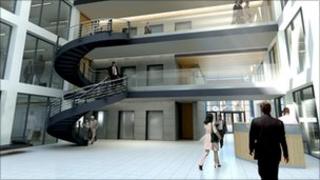 The first tenant of a major new office development in Aberdeen has been unveiled as Centrica.
The energy giant will lease the upper three floors of the £45m six-storey iQ building.
Mark Shaw, chief executive of developers Hazledene, said it was good news for the local economy.
Industry sources claim the cost would be among the highest rental rates in Scotland, but neither Hazledene or Centrica would confirm this.
Mr Shaw said: "I am delighted that a company of the calibre of Centrica has identified iQ as place where they want to conduct business."