Wife murder plot accused 'was nicknamed Dr Death'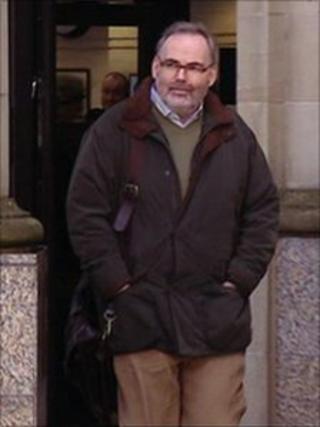 A man accused of murdering his wife and trying to kill his second was nicknamed "Dr Death", a court has heard.
Malcolm Webster, 51, denies murdering his first wife in Aberdeenshire in 1994, and trying to kill his second wife in New Zealand in 1999.
Former partner Ann Hancock said Mr Webster got the nickname as he was studying for a degree in assisted death and euthanasia.
Mr Webster, from Guildford in Surrey, denies all the charges.
He is accused of drugging his first wife, Claire Morris, putting her in a car, driving it off the road and setting fire to it.
Mr Webster also stands accused of fraudulently obtaining more than £200,000 after cashing in a series of insurance policies following the death of his first wife, who was from Oldmeldrum.
He is further charged with deliberately crashing his car in Auckland in February 1999, in a bid to kill his second wife, Felicity Drumm, who was a passenger.
Mr Webster did so as part of an attempt to fraudulently obtain hundreds of thousands of pounds in separate insurance payouts, it is alleged.
It is also alleged he intended to bigamously marry Simone Banarjee, of Oban, Argyll, to gain access to her estate and told her he was terminally ill with leukaemia when he was actually in good health.
Physiotherapist Ms Hancock, 50, told the High Court in Glasgow she joked of introducing him to her mother as "Dr Death".
Advocate depute Derek Ogg QC, prosecuting, asked Ms Hancock: "Did you give him a nickname?". She replied: "My colleague did. Dr Death."
'Cash flow problems'
Mr Ogg then asked: "At one stage you were going to introduce your mother to him with that name, were you not?". She replied: "Yes."
The prosecutor added: "This was in jest?". Ms Hancock replied: "Yes."
The jury heard she never in fact introduced him to her mother as "Dr Death".
Mr Webster often had "cash-flow problems", the court also heard.
Former partner Christina Willis said Mr Webster would often ask her to pay for things for him.
Ms Willis said: "He might say 'I'm a bit pushed for cash. It's the end of the month - can you pay for it for me and I'll pay you back?'
"It wasn't unusual for him to suggest something that was going to involve expenditure, and then, when the time came, he didn't have the money."
The trial at the High Court in Glasgow, before Lord Bannatyne, continues on Monday. It is expected to last about four months.