Malcolm Webster car crash made traffic officer 'uneasy'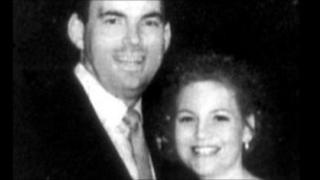 A traffic policeman has told a court that he was so concerned about a car crash which killed a nurse that he investigated it in his spare time.
Ch Insp Ian Wallace, 46, said the case made him "uneasy" and that he repeatedly revisited the crash site.
He was giving evidence in the case of Malcolm Webster who denies killing his first wife by intentionally crashing their car and setting it on fire.
He also denies crashing another car to kill his second wife in New Zealand.
Ch Insp Wallace said he had been a constable in the traffic department in Aberdeen in 1994 and had examined Mr Webster's Diahatsu Sportrak following the accident which killed Claire Morris.
He said: "I mulled over it for some time. I was unhappy with the circumstances.
"I returned to the scene with my colleague Ronald McLaren to see if we could determine what happened."
Mr Wallace told the jury he went back a couple of times with his colleague and added: "I also returned to the scene when off-duty such was my unease with what I had seen."
Minimal damage
The court was told that Mr Wallace spoke to an inspector about his concerns and also to his supervisor in the traffic department.
He was asked: "Were you later told the matter had been fully investigated and nothing untoward had been found?"
He replied: "Yes."
Mr Wallace was asked how many other fatal road accidents he had such doubts about. He said: "None whatsoever. This is the only one."
The court heard that an inspection of Mr Webster's car following the crash revealed it had sustained minimal damage, although it was burnt-out by fire.
Mr Wallace told the court there had been a melted petrol container behind the driver's seat in the car.
Under cross-examination by defence QC Edgar Prais, the traffic officer was asked: "You got a hearing? He replied: "I certainly did."
Mr Prais said: "It wasn't a situation that this was just a lonely constable, we're not listening to him? He replied: "No."
Ch Insp Wallace's colleague, Ronald McLaren, 43, who is now a chief superintendent, told the court he shared Mr Wallace's concerns.
He said he had raised the matter with an inspector and then a chief inspector.
Mr McLaren said: "It was quite a significant step at that time to raise it with senior officers in that manner.
He was asked: "Could you see any reason the person in the passenger seat could not unbuckle her seatbelt and step out?"
He replied: "There was nothing I saw that could explain that."
Low speed
The court also heard from William Rout , 44, a group manager with Grampian Fire and Rescue Service.
He was also called out to the road crash.
He said that in his opinion something "wasn't quite right" about the crash.
When he was asked why he thought this, he said: "All my experience in terms of attending car crashes."
He was then asked: "Could you see any reason why the casualty [Claire Webster] did not escape from the car?
He replied: "No."
Mr Rout added that the collision took place at low speed because there was no signs of debris at the crash site.
The court had earlier heard from police inspector Stuart Ednie who said the crash could not be reconstructed because there were no skid marks or debris.
He said the car could have been deliberately driven off the road.
Mr Webster, from Guildford in Surrey, is accused of killing Claire Morris in 1994 by drugging her, crashing their car and setting it alight in Aberdeenshire.
He also denies fraudulently obtaining more than £200,000 after cashing in insurance policies following Ms Morris's death.
He is also charged with deliberately crashing his car in Auckland, New Zealand, in February 1999 in a bid to kill his second wife, Felicity Drumm, who was a passenger.
It is also alleged he intended to bigamously marry Simone Banarjee, from Oban, Argyll, to gain access to her estate.
It is claimed he told her he was terminally ill with leukaemia when he was actually in good health.
The trial continues.