Iceland 'flexible' over EU mackerel wrangle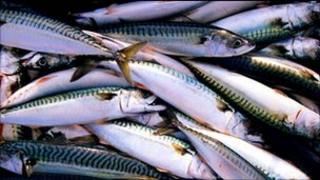 The man heading negotiations on behalf of Iceland in the dispute over mackerel quotas has said his country is willing to be flexible.
Scottish fishing leaders last week called for sanctions against Iceland, and the Faroe Islands, over the row.
Three days of fresh talks had ended without agreement.
Tomas Heidar, chief negotiator for Iceland on mackerel fisheries, said they were willing to accept a lower quota.
He said: "Although no agreement was reached in the mackerel consultations last week, they were in our view more positive than earlier consultations between the parties.
"We expect that the EU and Norway will now respond to our increased flexibility by taking steps to reduce the gap that still exists between the parties.
"Another round of consultations has not been decided but the parties will keep close contact in the next weeks and decide on the next steps."
Last year Iceland and the Faroes set their own 2011 quotas, after failing to reach a deal with the EU and Norway.
In January, the European Union signalled an intention to block landings of mackerel from Icelandic boats, after the country announced it was setting a 2011 quota of 146,818 tonnes, up from 130,000 in 2010.
The Faroe Islands - a semi-autonomous Danish territory - have not yet set their mackerel quota for 2011, but tripled their own allocation last year.
The two countries argue that climate change has led to more mackerel moving north into their waters in recent years.