Puffin auction raises money for Scottish Wildlife Trust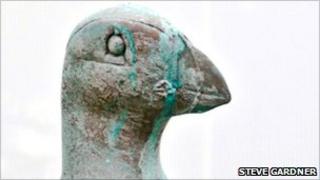 The auction of a life-sized bronze puffin that has been travelling between the Northern Isles and Aberdeen has raised £1,750 for charity.
The sculpture was fitted on the NorthLink boat Hrossay last year to illustrate the life puffins face at sea during winter.
Artist Eddie Hallam said he hoped the donation would raise public awareness of puffins.
It was auctioned on eBay for the Scottish Wildlife Trust.
There were 40 bids from 13 bidders. The successful buyer wanted to remain anonymous.
Lucy Graham, SWT's head of development, said: "This puffin has been on a fantastic adventure, and its time at sea makes you realise just what the wild puffins have to endure."