EU mackerel sanctions over quotas 'just days away'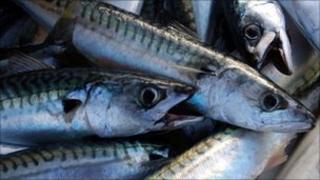 An announcement on sanctions against Iceland and the Faroes in the long-running dispute over mackerel quotas could be just days away.
Fisheries minister Richard Lochhead said he had received assurances that EU plans were at an advanced stage.
Last year Iceland and the Faroes set their own increased quotas, after failing to reach a deal with the EU and Norway.
Fishing industry leaders claim the countries are being irresponsible.
Mr Lochhead said: "We must address their flagrant disregard of the responsibility to fish the mackerel stock sustainably.
"The EU commissioner agreed that the current situation is unacceptable and tough action is needed.
"She assured me that concrete proposals from the EU are imminent and that an announcement is expected in the coming days."
'Increased flexibility'
Iceland and the Faroes argue that climate change has led to more mackerel moving north into their waters in recent years.
The man heading negotiations on behalf of Iceland in the dispute over mackerel quotas said earlier this month his country was willing to be flexible.
Tomas Heidar said they were willing to accept a lower quota.
He added: "We expect that the EU and Norway will now respond to our increased flexibility by taking steps to reduce the gap that still exists between the parties."