Malcolm Webster fatal crash: Constable's 1994 concerns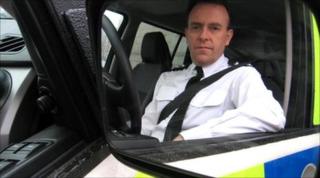 Now head of roads policing in Grampian, Ch Insp Ian Wallace was a constable when Malcolm Webster's wife died in a crash in 1994.
Claire Morris perished when the Diahatsu Sportrak being driven by her husband crashed and then burst into flames.
Something about what had happened did not seem right to the junior traffic department employee.
And he was so concerned about the crash that he investigated in his spare time.
Ch Insp Wallace told the long-running trial at the High Court in Glasgow that what he discovered made him uneasy, explaining: "I mulled over it for some time.
"I was unhappy with the circumstances."
He returned to the scene with colleague Ronald McLaren to see if they could determine what had happened.
He told the court: "I also returned to the scene when off-duty, such was my unease with what I had seen."
The court heard Ch Insp Wallace raised the matter with senior colleagues.
'Only one'
Advocate depute Derek Ogg, prosecuting, asked: "Were you later told the matter had been fully investigated and nothing untoward had been found?"
He replied: "Yes."
Ch Insp Wallace was then asked how many other fatal road accidents had he had such doubts about.
He replied: "None whatsoever. This is the only one."
Under cross-examination, defence counsel Edgar Prais QC asked: "You got a hearing?"
He replied: "I certainly did."
Mr Prais said: "It wasn't a situation that this was just a lonely constable, we're not listening to him?"
He replied: "No."
Seventeen years later, the members of the jury delivered their opinion of a constable's instinct.