Aberdeen city centre fire closes busy street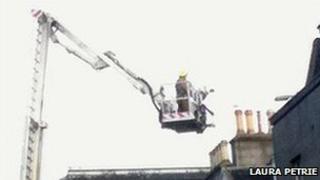 A serious flat fire forced a busy Aberdeen city centre street to be closed.
The emergency services were called to the scene at Market Street, off Union Street, at about 0815 GMT after reports of the fire in a top floor flat.
Grampian Fire and Rescue Service had three units, a height vehicle and crews in breathing apparatus tackling the blaze.
Police said the road was closed at the Douglas Hotel but later re-opened.
There were not believed to be any injuries.
A number of residents at the nearby hotel were evacuated as a precaution.
Do you have pictures - still or moving - of this incident? Send them to the BBC Scotland news website at newsonlinescotland@bbc.co.uk
Please ensure when filming or photographing an incident that you make your safety and the safety of others a priority.
If you submit an image, you do so in accordance with the BBC's Terms and Conditions.