Jerusalem bus bomb: Mary Gardner's family pay tribute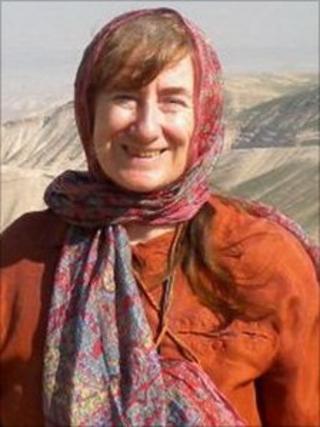 The family of a British woman who died when a bomb exploded at a crowded bus stop in Jerusalem have paid tribute to her as a "very special person".
Mary Gardner, 59, originally of Orkney, was studying at the Hebrew University.
Her parents, who live near Insch, Aberdeenshire, said they were "devastated by the sudden loss" of their oldest daughter.
Thirty people were also injured by the bomb, which was left in a bag on a pavement near the central bus station.
It was the first major bombing in the Israeli city in seven years.
Ms Gardner, an evangelical Christian and bible translator, spent much of her life living in Togo, west Africa, where she worked for Wycliffe Bible Translators.
Her parents Jean, 81, and Tony, 82, said Ms Gardner, the oldest of their five children, had spent the past six months in Jerusalem.
Mr Gardner said: "We are all devastated by the sudden loss of our daughter in this tragic and unexpected way.
"Mary was a very special person and we thought the world of her. She was devoted to her work and was well liked wherever she went.
"Her loss in this way has been deeply upsetting for us all.
"We are proud of her and all that she has achieved in her life and feel truly blessed to have had her in our lives."
Local dialect
Before becoming a bible translator, Ms Gardner worked as a teacher in Orkney.
Vice-convener of Orkney Islands Council James Stockan, a family friend, said he was saddened to hear of her death.
"She was a brave, tenacious lady whose incredible achievements in translating and teaching the Bible and putting the local dialect into print for the people of Togo were immense," he said. "My thoughts are with her family at this difficult time."
He added: "Terrorism incidents across the world can seem so far removed from our life in Orkney, but this incident shows that sadly this is not always the case."
Eddie Arthur, executive director of Wycliffe Bible Translators, described Ms Gardner as a "lovely lady who was very popular" and would be "sorely missed".
He said: "Mary worked with Wycliffe in Togo since 1989 where she was part of a team translating the New Testament into a language called Ife.
"The New Testament was finished in 2009 and Mary had then gone on to work helping other people.
"She was in Israel for six months studying Hebrew in order to go back to Togo to translate the Old Testament."
Palestinian Prime Minister Salam Fayyad condemned the bombing, calling it "a terrorist attack", while Israeli Prime Minister Benjamin Netanyahu pledged to respond "vigorously and responsibly" to the attack.
US President Barack Obama also condemned it "as well as the rockets and mortars fired from Gaza in recent days".
The bombing comes amid heightened tension in the Gaza Strip.