Malcolm Webster trial: Wife 'asked if food was spiked'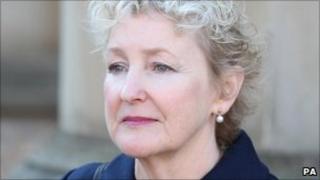 A woman whose husband allegedly tried to kill her asked him if he was spiking her food when she was was pregnant, a trial has heard.
Malcolm Webster, 51, of Surrey, denies crashing his car New Zealand in 1999 in a bid to kill his second wife, Felicity Drumm, 50, for insurance money.
Ms Drumm told the High Court in Glasgow she became unwell after eating food which was "acrid" and "bitter".
She said her husband broke down in tears when she mentioned it.
Mr Webster, of Guildford, is accused of attempting to murder his wife and drugging her at locations in New Zealand and the UK between July 1996 and February 1999, to the danger of her life and that of her unborn child.
He is also charged with trying to murder her in a deliberate car crash in New Zealand in February 1999, in a bid to obtain more than £750,000 worth of insurance money by fraud.
'Quite disgusting'
In her second day of evidence, Ms Drumm told the court: "I had a few episodes following finding out I was pregnant. I was eating food. It was acrid and bitter. Quite disgusting.
"If I continued to eat I was feeling drunk. I would be staggering and needed assistance to walk."
She was asked when these episodes of ill-health happened and replied: "It was always at a weekend, always at home and always when Malcolm had prepared the food."
Ms Drumm said she asked Mr Webster if he was putting something in her food and told the court he broke down in tears.
She said: "He became tearful and suggested that our marriage was in trouble if I would ever consider such a thought and I felt guilty.
"I couldn't understand why it only happened in those circumstances. It never happened when I prepared the meal.
"I suppose it didn't make sense. We were happily married. Although I had a suspicion it didn't add up. We were in love."
Ms Drumm said Mr Webster's explanation for the incidents was that she was tired and run down.
She said: "He would always insist I ate it all because I was pregnant and needed to maintain my nutrition."
Mr Webster is also accused of killing his 32-year-old first wife Claire Morris by drugging her, crashing their car in Aberdeenshire and setting it alight on 27 or 28 May 1994.
He denies fraudulently obtaining more than £200,000 after cashing in insurance policies following Ms Morris's death.
It is also alleged that he intended to bigamously marry Simone Banarjee, from Oban, Argyll, to gain access to her estate. It is claimed he told her he was terminally ill with leukaemia when he was actually in good health.
The trial, before judge Lord Bannatyne, continues.