Malcolm Webster trial: Family faced three house fires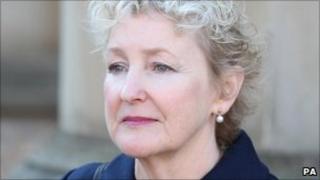 A woman whose estranged husband allegedly tried to kill her told a murder trial that her family faced three "extraordinary" house fires.
Malcolm Webster, 51, of Surrey, denies starting the fires and crashing his car New Zealand in 1999 in a bid to kill his second wife for insurance money.
The High Court in Glasgow heard Mr Webster tried to gain £750,00 from the death of Felicity Drumm, 50.
She said she was "bewildered" by a fire in the house where she was sleeping.
Ms Drumm said the blaze at her parents' house in Auckland, New Zealand, had been part of a succession of stressful events she had to deal with.
Mr Webster, of Guildford, is accused starting three fires in properties in Scotland and New Zealand.
He is also charged with attempting to murder his wife and drugging her at locations in New Zealand and the UK between July 1996 and February 1999, to the danger of her life and that of her unborn child.
He is also charged with trying to murder her in a deliberate car crash in New Zealand in February 1999.
'Explosive noise'
The court heard the fire followed an earlier blaze which broke out at the home she shared with her husband in Aberdeenshire.
Jurors also heard Ms Drumm subsequently learned the home she was hoping to buy with Mr Webster in New Zealand was the target of an arson attack.
Mr Webster denies crashing his car in New Zealand in 1999 in an attempt to kill Ms Drumm, his second wife, and obtain more than £750,000 worth of insurance money by fraud.
He further denies murdering his first wife, 32-year-old Claire Morris. She died when the vehicle in which she was a passenger crashed and caught fire in Aberdeenshire in May 1994.
Ms Drumm, a New Zealand citizen, told the court she and Webster, whom she married in 1997, travelled to New Zealand from Scotland towards the end of 1998 with a view to setting up a permanent home there.
They stayed at her parents' home in Auckland while hunting for a house to buy.
It was during those "protracted" house negotiations that a fire broke out in the early hours of the morning, she told the court.
She said: "There was a very loud noise, an explosive noise or something which seemed very close. It seemed like it was coming from the living room."
Ms Drumm told the court she had earlier seen Mr Webster going into the living room after he got out of bed to go to the bathroom.
She said she "grabbed" her baby from his cot and alerted her parents, all of whom managed to escape from the fire.
Ms Drumm said she later learned the home the couple had been trying to buy had suffered an arson attack.
Asked about her reaction following the fire at her parents' house, Ms Drumm told the court: "Totally bewildered. I couldn't believe that yet again something like this would happen to us.
"It seemed extraordinary that we'd had such a series of events."
She told the court that with hindsight, she could not think of any accidental causes of the fires at her parents' house or the couple's cottage in Aberdeenshire.
"It didn't occur to me that anyone would purposefully destroy their home or possessions," she said.
Savings taken
Ms Drumm told the court earlier that she had been "very surprised" to see Webster at their cottage in Lyne of Skene, Aberdeenshire, when she arrived to find it was partly gutted by fire.
The oncology nurse told the court she never saw her handbag containing her identification documents after the blaze, but she spotted the driving licence several months later on her husband's desk.
The court also heard savings of 140,000 New Zealand dollars were taken from one of her bank accounts after Mr Webster persuaded her to add his name to it.
Among the charges denied by Webster is an allegation that in September 1997 he set fire to furniture in the living room of their cottage at Lyne of Skene, allowing the fire to take hold there.
He also denies setting fire to an armchair in the living room of Ms Drumm's parents' house in Takapuna, Auckland, in February 1999 to the danger of the people in the house.
He further denies pouring petrol over paper and setting fire to it at a property in Bayswater, Auckland, in January 1999.
It is also alleged that he intended to bigamously marry Simone Banarjee, from Oban, Argyll, to gain access to her estate. It is claimed he told her he was terminally ill with leukaemia when he was actually in good health.
The trial, before judge Lord Bannatyne, continues.