Stonehaven care home deaths inquiry launched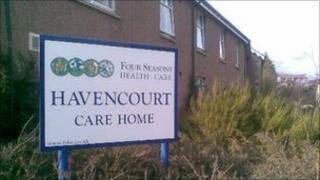 An investigation is under way into the deaths of four elderly residents at an Aberdeenshire care home, BBC Scotland has learned.
NHS Grampian confirmed it was investigating what it called a small outbreak of respiratory illness at the Havencourt care home in Stonehaven.
The outbreak started in mid-March, with the last reported case on Friday.
Tests are being carried out at the home and samples sent for identification to establish whether a virus was to blame.
Over a one-week period, four residents who showed symptoms of the suspected virus died. All had underlying medical conditions.
Other residents and staff, who still have symptoms, are improving.
Distressed staff
A statement from the health board said: "The care home is co-operating fully with our advice and additional infection control measures have been implemented to reduce the risk of transmission to other residents.
"Sadly, four elderly residents who had shown some symptoms in the care home have died during the last week."
A statement from Four Seasons Health Care, which owns the home, said: "It is not yet known whether the suspected virus is directly linked to the deaths of the residents who all had existing medical conditions.
"The wellbeing and welfare of our residents is always our first priority and the staff are distressed by the deaths.
"We have taken appropriate measures to eradicate the suspected virus and will continue to work with the Health Protection Agency."
The home is currently closed to new admissions.