Malcolm Webster 'had receipt for petrol canister'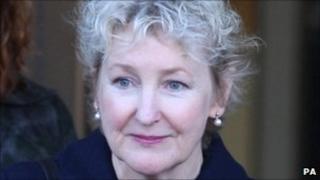 A man accused of attempting to kill his wife had a receipt for a petrol canister, a murder trial has heard.
Malcolm Webster denies crashing a car in New Zealand in 1999 in a bid to kill his second wife Felicity Drumm to claim insurance money.
He also denies murdering his first wife in Aberdeenshire in 1994 in a car fire after a crash.
Ms Drumm told the High Court in Glasgow she found the filling station receipt in his briefcase.
Mr Webster, 51, of Guildford, Surrey, denies crashing his car in New Zealand in 1999 in an attempt to kill Ms Drumm and obtain insurance money by fraud.
He further denies murdering his first wife, 32-year-old Claire Morris. She died when the vehicle in which she was a passenger crashed and caught fire in 1994.
It is also alleged that he intended to bigamously marry Simone Banarjee, from Oban, Argyll, to gain access to her estate. It is claimed he told her he was terminally ill with leukaemia when he was actually in good health.
Ms Drumm, 50, said Mr Webster had not told her about any purchases, and added: "Following Claire's death he told me he didn't carry petrol in the car."
Advocate depute Derek Ogg QC, prosecuting asked: "When did he tell you he would never drive with a petrol can in the car?"
She replied: "He told me a number of times in Saudi and in Scotland."
Ms Drumm was shown an invoice for the petrol can and other items and, asked if she recognised the signature, she replied: "Yes, it's Malcolm's".
She was then asked where the invoice had come from and she said: "It came from the contents of Malcolm's briefcase".
The court heard that Ms Drumm and her father had searched the briefcase on 18 February, 1999, because they believed her money had gone from the joint account she had with Mr Webster.
Mr Ogg asked: "Do you know why anyone in your family would need a petrol can?"
She replied: "No."
The trial, before judge Lord Bannatyne, continues.