Peterhead harbour area reopens after 'torpedo' find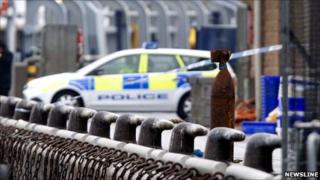 The Peterhead harbour area was closed to the public after a fishing boat brought a suspected torpedo ashore.
The emergency services were alerted to the incident at about 0830 BST.
A safety cordon was established around the device, which Grampian Police said was believed to be of a "considerable age".
An army bomb disposal team later removed the device to perform a controlled detonation at sea.
The BBC Scotland news website understands the boat involved was the Opportunus IV.
The device - which was initially standing on the quayside - appeared extremely rusty.
It is not yet known how long the device was on the boat before it was brought ashore.
The bomb disposal team arrived early in the afternoon to examine the device, and remove it.
The harbour area then reopened to the public.
Grampian Police thanked the public for their "co-operation and patience" during the incident.