Elgin's £86m flood defence scheme work under way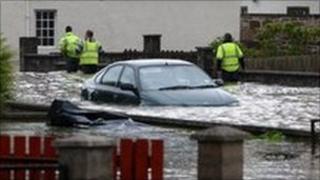 Work on a major flood defence scheme for Elgin is officially getting under way.
It follows preparatory work on the £86m project, which saw trees felled close to the River Lossie.
A ground-breaking ceremony on the banks of the river will be attended by Moray councillors and representatives of the contractors, Morrison Construction.
The project, which will take four years to complete, is designed to hold back flood water from the River Lossie.
It will take Moray Council an estimated 40 years to pay off a loan needed to cover the difference in expected government funding for the scheme.
The cost of the largest flood scheme in Scotland is being met by £55.6m from the government and £30.5m from Moray Council.
However, as the level of Scottish government funding for the scheme is about £14m less than the council expected, a loan will be used to cover the difference.
Elgin has suffered recurring flooding, with the most serious incidents in July 1997, November 2002 and September 2009.