Dr Harold Shipman report 'on Malcolm Webster computer'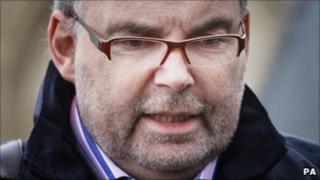 A report into the serial killer Dr Harold Shipman was found on the computer of a man accused of murdering his wife, a trial has heard.
Malcolm Webster, 51, of Surrey, denies murdering his first wife Claire Morris in Aberdeenshire in 1994 for insurance.
He also denies crashing a car in a bid to kill his second wife Felicity Drumm in New Zealand in 1999.
The High Court in Glasgow heard the documents related to Mr Webster's degree studies.
The court heard that a link to the Shipman inquiry site was also found on a laptop.
Under cross examination, Det Con Brian Moggach, a forensic computer analyst from Grampian Police, agreed documents recovered from Mr Webster's computer related to his degree in health care law he was studying for at Salford University in England in 2005.
His dissertation was titled "Will we see euthanasia or assisting dying become law in the UK".
'Utter rubbish'
The officer told the court that he was brought into Operation Field, the codename for the police investigation into Mr Webster, in May 2008.
He examined six computers associated with Mr Webster.
Det Con Moggach also told how he found an e-mail sent by Mr Webster to a female in which he said: "I must say I am tired of the utter rubbish being said nowadays."
Mr Webster, from Guildford, also denies intending to bigamously marry Simone Banarjee, from Oban, Argyll, to gain access to her estate.
The trial continues on Monday.