Malcolm Webster trial: Relative tells of 'spike fears'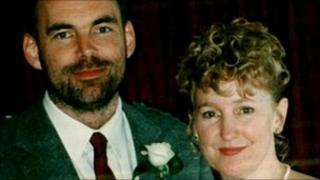 The sister-in-law of a man accused of trying to kill his second wife has told a court the alleged target wondered if he was spiking her food and drink.
Malcolm Webster, 52, of Surrey, denies attempting to kill Felicity Drumm in New Zealand in 1999.
He also denies murdering his first wife Claire Morris in Aberdeenshire in 1994.
Janine Webster told the High Court in Glasgow she did not offer Ms Drumm any advice, and added: "Perhaps I was like the proverbial ostrich."
Mrs Webster, 49, who is married to Mr Webster's older brother Ian, said Ms Drumm was worried because she was sleeping for lengthy periods.
The witness told advocate depute Derek Ogg QC, prosecuting, that the conversation happening before Ms Drumm and Mr Webster went to New Zealand in December 1998.
Mr Ogg asked: "What advice did you give her?"
She replied: "I didn't and I regret that."
He then said to Mrs Webster: "Did she express to you what she thought might have been happening?"
Mrs Webster replied: "She wondered whether Malcolm was spiking her food and drink."
Mr Ogg said: "That's extraordinary."
Mrs Webster replied: "It is extreme."
Mrs Webster said she did not tell Ms Drumm to go to her doctor to get checked out, and added: "With hindsight I should have."
Her husband Ian told the court he had not gone to see his brother until about two months after the crash in which Malcolm Webster's first wife died.
Calendars unchanged
He expressed surprise because the calendars in the house were still at the date when she died.
Mr Ogg said to Mr Webster: "You are painting a picture of someone stuck in time by the death of his wife, but in reality he had bought a yacht and a Land Rover and was seeing other women?"
He replied: "I was only commenting I was surprised the calendar hadn't been moved on."
Mr Webster told the court he believed his brother had received a £200,000 payout from insurance polices after his wife's death.
Alistair McMillan, 52, the best man at Mr Webster's wedding to Claire Morris in 1993, described them as "very much in love".
He said that often when he phoned his friend at home at night he would be told his first wife was sleeping.
Mr McMillan told the court that after Mr Webster had married his second wife the same thing would happen.
Mr Ogg asked him: "Did it strike you as a coincidence?"
He replied: "I hadn't twigged, but yes."
Malcolm Webster, from Guildford, also denies intending to bigamously marry Simone Banarjee, from Oban, Argyll, to gain access to her estate.
The trial continues.