Murder trial jury shown picture of dead baby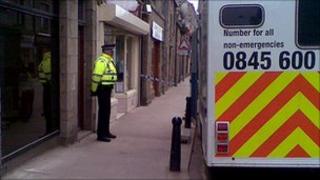 A jury has been shown a picture of a dead baby boy who was found with a plastic bag over his head next to a cardboard box by a policeman.
The picture was shown at the trial of Ineta Dzinguviene, 26, who is alleged to have asphyxiated her newborn son with clear plastic food wrapping.
The image was displayed on TV screens at the High Court in Livingston.
Ms Dzinguviene denies murder and attempting to pervert the course of justice.
Grampian Pc Graeme Smith, 32, said he found the body of a baby boy in a common hallway on Fraserburgh High Street on 12 April 2010, as he was trying to contact Ms Dzinguviene after police received reports about a baby.
He said on entering the block of flats he rang the door where Ms Dzinguviene stayed but only three young children were inside.
Dorothy Bain QC, prosecuting, asked: "Were you trying to establish if there was a baby on the premises?"
He replied: "Yes."
Cardboard box
He said he looked around the flat and could see no sign of the baby, and planned to go and check the bins outside the flat, but first looked in an alcove on the stairs.
He said: "There was a cardboard box and a bin bag on top with clothes inside.
"On top of the bag was a blue canvas bag. I lifted it up and placed it on the cardboard box.
"It was pretty heavy. There was another blanket covering it, and I contacted a detective constable to let them know the blanket was from the maternity hospital.
"I opened it and within another plastic bag I saw the skin of a baby. I saw the chest area. There was a plastic bag over the baby's head. It was a disposable bag rolled up. It looked like a Tesco bag."
He said the baby was wearing a hat with ties under the chin. He said he then called an ambulance.
Life 'extinct'
Ms Bain said: "I understand that following an examination the life of the baby was declared extinct."
Pc Smith replied: "Yes. Life was pronounced extinct so the ambulance left and it was pronounced a crime scene."
He said scene of crime officers came to take pictures of the house, as well as to take videos.
Ms Bain then told the jury she would show a video, which would show the crime scene and the baby.
Judge John Beckett QC told the jury: "I'd just like to warn you to be prepared as it's a baby you're going to see."
Earlier, a 10-year-old girl - who cannot be named for legal reasons - told the jury she was ordered to leave a room after seeing Ms Dzinguviene "wrapping something up" under a bed on the day of the alleged murder.
The primary six pupil, who gave evidence over a CCTV link, said: "She was wrapping something. It was transparent like clingfilm. She was kneeling on the floor next to the bed.
"When she saw me she held the clingfilm as if she was trying to hide it. This was all I saw and she told me to leave.
"She was cross. She said not to tell anyone that I knew she had gone to the hospital."
The girl said the next day she overheard a discussion between Ms Dzinguviene and a relative, where the accused was asked: "Where's the baby?"
The girl said she told her relative: "I don't have a baby."
The trial, before judge John Beckett QC, will continue on Tuesday.