Total gas plan for Shetland moves forward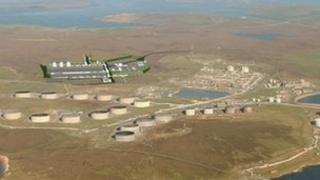 Work has started to pipe the first commercial gas from the west of Shetland to the Scottish mainland.
The project is part of a massive £2.5bn investment by the French oil company Total to pump gas into the UK market by 2014.
A new processing plant is also being built in the islands, where hundreds of construction jobs have been created.
Shetland councillor Allan Wishart said the development was reaping rich rewards for the island economy.
He said: "We're talking about something like £200m of worth to the economy in Shetland over the next 20 or 30 years, and that offers communities opportunities and prospects which are very, very encouraging."