Royal wedding: North east of Scotland marks big day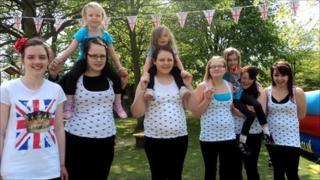 People in the north east of Scotland have attended events to celebrate the royal wedding.
Balmoral Castle visitors watched the ceremony on big screens as Kate Middleton arrived in her Sarah Burton dress to marry Prince William.
In Aberdeen, a street party was held in the sunshine in the Powis area.
There was free entertainment - including dancers, music, a bouncy castle and story telling - as well as food and refreshments.
At Balmoral, hundreds brought picnics, drank champagne and waved flags on the lawn outside the Royal Deeside castle to view the proceedings on large screens.
Amanda Mann, from Aberdeen, was with her children Aria, seven, and Sebastian, four, who were dressed as a prince and princess.
Mrs Mann, 40, said: "You can't put a price on memories like today for children.
"Aria chose her white dress with great fuss and great thought. She had to make sure the veil was sitting right, she just loves dressing up for it.
"She knows all the stories from Charles and Diana and she loves Kate, she's so excited. I think she thinks she is Kate."
Garry Marsden, visitor enterprise manager at the estate, said: "We are open for visitors anyway but we knew being open on the day of the royal wedding we needed to cater for people who wanted to see it.
"The people up and down Deeside and in Aberdeenshire have a great affection for the royal family. It's a very traditional area and everyone here very much respects them and all that they do.
"On a day like today it's obvious to see why it's such a special location to the royals as well, it's a stunning, peaceful place."
'Important event'
Andy Cowie, of the Powis Gateway Community Centre, which hosted the Aberdeen event for scores of people, told the BBC Scotland news website: "Hopefully the children here today will remember this when William becomes king.
"It's an important event for this community."
After their marriage, the royal couple will be known the Earl and Countess of Strathearn, linking the newly-weds to Perthshire, as well as the Duke and Duchess of Cambridge and Baron and Baroness Carrickfergus.
Shetland Council was one of a small number of Scottish local authorities which did not give employees the day off for the wedding.
Meanwhile, Fraserburgh-based brewers BrewDog made a "royal virility performance" beer, containing herbal viagra.